OVNI 370
The full experience
This new model has been designed in the same philosophy as the OVNI 400. She is answering to the challenge initiated by the shipyard: to design a 100% aluminium lifting keel (centreboard) sailboat, integrating the design criteria of long range cruising (A category certification).
Jointly signed by Mortain-Mavrikios and CBA design offices, the OVNI 370 is the successor of the emblematic OVNI 365 and OVNI 395.
Information
Architects : Mortain/Mavrikios and CBA design offices
Length overall : 11.95 m
Hull length : 11.95 m
Length at waterline : 11.40 m
Maximum beam : 3.99 m
Draught with centreboard down : 3.08 m
Draught with centreboard up : 0.92 m
Light displacement : 9,400 kg
Ballast weight : 3,000 kg with a keel of 260kg
Water tanks : 300 l
Fuel tank : 300 l
Upwind sail area (cutter) : 69 m2
Mainsail : 36 m2
Solent : 33 m2
Engine : Nanni N4-38 (27,6kW) shaft drive
CE Category under process : A
Are you interested in this model ?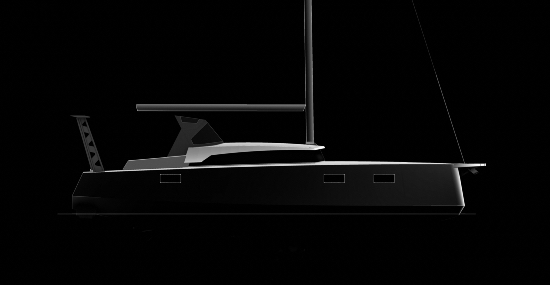 Do you want a quote, a study or a simple request for information ?
Alubat Chantier naval
42, Avenue Louis Breguet
ZI Les Plesses
85180 Les Sables d'Olonne
France
+33 (0)2 51 21 08 02