OVNI 400
The full experience
Building on our experience and expertise in blue water sailing boats, we have collaborated with the MORTAIN & MAVRIKIOS agency to create the OVNI 400, worthy successor of the OVNI 395.
The OVNI 400 belongs to our new generation of boats, in line with the OVNI 450, combining innovation, elegance & ergonomics.
When safety at sea goes hand in hand with performance and comfort.
Performance : A hull with an inverted and voluminous bow giving the boat great length at the waterline, a square-top mainsail, a more than 1 ton lifting keel allowing great stiffness under sail and a shallow draught to easily beach anywhere.
Outside comfort : A cockpit opening on a large bathing platform, great visibility and optimal sensations with the twin steering positions, an aft arch to support dinghy davits, solar panels and other equipment, a mainsheet arch and clear side decks.
Inside comfort : A panoramic view for an active watchkeeping, great luminosity, an offset saloon on the port side for easy circulation towards the bow to starboard, a generous head with separate shower, a large fore owner cabin and other layouts in a modern design.
Information
Architect : MORTAIN & MAVRIKIOS
Twin rudders : yes
Aluminium rudders : yes
Length overall : 12.90 m
Hull length : 12.28 m
Length at the waterline : 11.54 m
Maximum beam : 4.35 m
Draught with centreboard down : 2.88 m
Draught with centreboard up : 0.98 m
Light displacement : 11,200 kg
Ballast : 2,600 kg
Water tank capacity : 2×200 l
Fuel tank capacity : 2×270 l
Upwind sail area (sloop) : Traditional 85 m² / Square top 93 m²
Mainsail : Traditional 44 m² / Square top 52 m²
Solent : 41 m2
Engines : : VOLVO D2-50 shaft drive (50 hp – 36.5 kW)
Are you interested in this model ?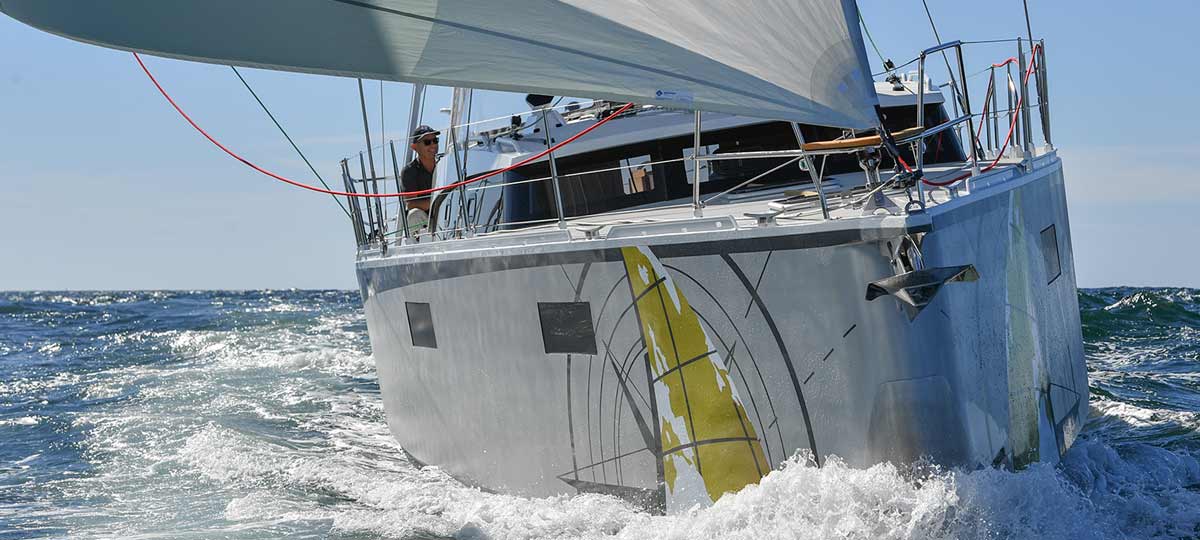 Do you want a quote, a study or a simple request for information ?
Alubat Chantier naval
42, Avenue Louis Breguet
ZI Les Plesses
85180 Les Sables d'Olonne
France
+33 (0)2 51 21 08 02
Travel books – OVNI 400
• Be the first to share with us your adventures in OVNI 400, by sending us a link to your blog or your site !